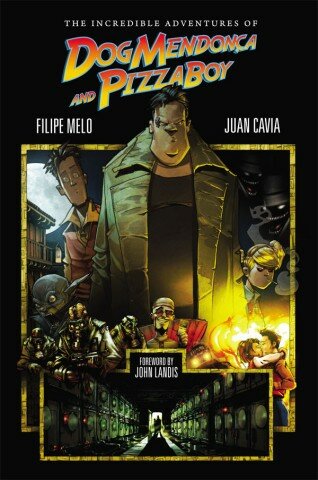 Our first graphic novel is finally avail­able for pur­chase on the Ama­zon website.
GET YOUR COPY HERE
Dur­ing World War II, all the super­nat­ural crea­tures sought refuge in Por­tu­gal. Vam­pires, were­wolves, gar­goyles, and ghosts all live peace­fully, in the shad­ows, along­side humans. How­ever, under­ground, the worst of all mon­sters pre­pares his come­back. A young pizza deliv­ery boy, a mid­dleaged were­wolf, a six thou­sand year old demon, and the sev­ered head of a gar­goyle will be the only ones capa­ble of fac­ing the forces of evil that threaten mankind. The Adven­tures of Dog Men­donca and Piz­z­aboy is a col­lab­o­ra­tion between Fil­ipe Melo, a por­tuguese musi­cian and writer, and Juan Cavia, an Argen­tin­ian set designer and artist.
More news com­ing up soon.